Stream/Download from WNYC New Sounds
26/05/15 19:27 Filed under:
Radio
From
WNYC.org
: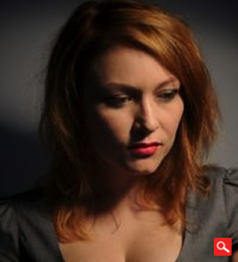 Hear music by Australian-born, London-based electroacoustic musician & sound artist Leah Kardos along with music by Irish woodwind player and composer Seán Mac Erlaine, as well as other electroacoustic music on this New Sounds. Listen to several works by Kardos from a sampler released in 2014, including her work, "Butterfly Kite,"written for easy piano + delay/verb effects. Then hear improvised woodwind and electronic sounds from a series of live recordings by the Dublin musician, Seán Mac Erlaine. From his, "A Slender Song," hear music for clarinets of all sorts and sizes, manipulated by electronics.
Then, hear music from a dance score by London-based composer Jon Opstad, who also did the music for the provocative British episodic series, "Black Mirror." Listen to music from cellist Julia Kent with loops and delays from the recent record, "Character." German theremin player Carolina Eyck improvises on the low end together with pianist Christopher Tarnow. Then,hear music from NY-based singer GABI, who layers and processes her voice a la Juliana Barwick. (Caution: her work, "Where," might remind you of "The Rains of Castamere.")
PROGRAM #3706–Various Forms of Electro-acoustic Music (First aired on 03/24/2015)
About New Sounds Podcasts
The most cutting-edge, worldly-wise music show on the airwaves returns with nearly bi-weekly installments available for download. For more than three decades, host John Schaefer has been exploring more genres of music than you knew existed. A truly compelling hour of radio, and now you can tune in wherever you are, whenever you want. As if you weren't dependent enough on your MP3 player…