Feather Hammer put to bed, (and did you know I quite like kickass beats?)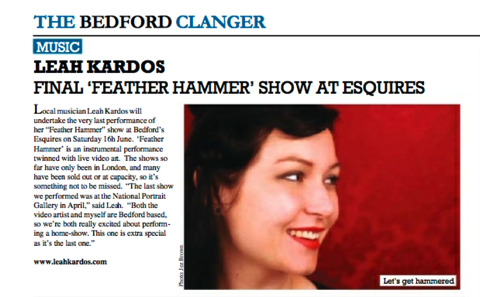 What a lovely send off for the Feather Hammer live project, I had such a great night! Felt honoured to be surrounded by so many friends from Bedford, not forgetting the hardcore group who travelled from London only to become stranded here due to rail replacement shenanigans and had to get a CAB back. For such efforts I hope it was worth it.


At the end of the Feather Hammer show, I performed some tracks from
You Can't Hide Beat,
my Bowie covers EP from last year. I dedicated the songs - Sunday, Lady Grinning Soul and a new version of Heathen - to my dear departed friend Jim Hyde, whom I met on a Bowie fan site back in the late 90s. One of our last conversations was about how much he enjoyed the Bowie covers EP, so it seemed a fitting gesture to make although I very nearly dropped the idea the morning of the show; I wasn't feeling brave at all having not sung in public for years. Liz talked me back into it, and I'm glad I did it. I miss you Jim.


And here is a very cool thing; I've been sampled! During the DJ set after my show, Matt Greasley played this track and it took me a while to register it was even me. Mrs Properly from Uncle Bob's Records pillaged that hour-long ResonanceFM show I did back in September 2011 and found all the various words needed to proclaim my love of kickass beats. Who hasn't wanted to be sampled in a daft dance track? I love it!