The Local presents Shhh! - A celebration of quiet music, art and film
14/01/12 03:29 Filed under:
Event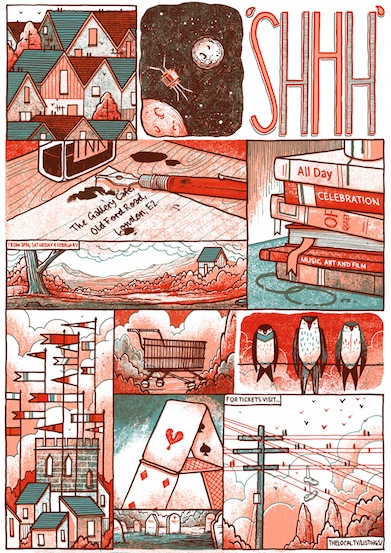 The Local in association with The Line of Best Fit presents:

Shhh – A celebration of quiet music, art and film


Saturday, February 4 The Gallery Cafe – Bethnall Green, London E2


RSVP via Facebook
|
Buy Tickets

from
The Line of Best Fit
:


For the third year running The Local and The Line Of Best Fit are teaming up to present Shhh – an all day celebration of quiet music, art and film. Moving from our regular North London home of Cecil Sharp House to the more intimate surroundings of The Gallery Cafe in East London's Bethnall Green, this year sees performances from Tiny Ruins, Tom Rogerson (Three Trapped Tigers), Mirel Wagner and the debut UK performance from Swedish troubadour The Tarantula Waltz.

Other acts include Felix, The Singing Adams, Anna Meredith, Rob St John, Leah Kardos, Hyperpotamus, Dog Ears, Fierce And The Dead, Alex Haynes, Stranded Horse and Our Feathered Embers.

In addition to this fabulous lineup, other attractions include a screening of a new film about David Thomas Broughton, plus various acts soundtracking silent movies by the artist Luke Drozd and an arts and music stall.

A limited number of early bird tickets are on sale now priced at £7.50. The event will take place on Saturday, February 4 at The Gallery Cafe which is located on 21 Old Ford Rd, London E2 9PL.


**********

I feel completely honoured to be sharing a bill with such an amazing line up! Like the premiere, I'll be working with video artist Matt Greasley again to present the music from Feather Hammer, and I think we might be performing our set from a little cinema space in the venue. Can't wait!